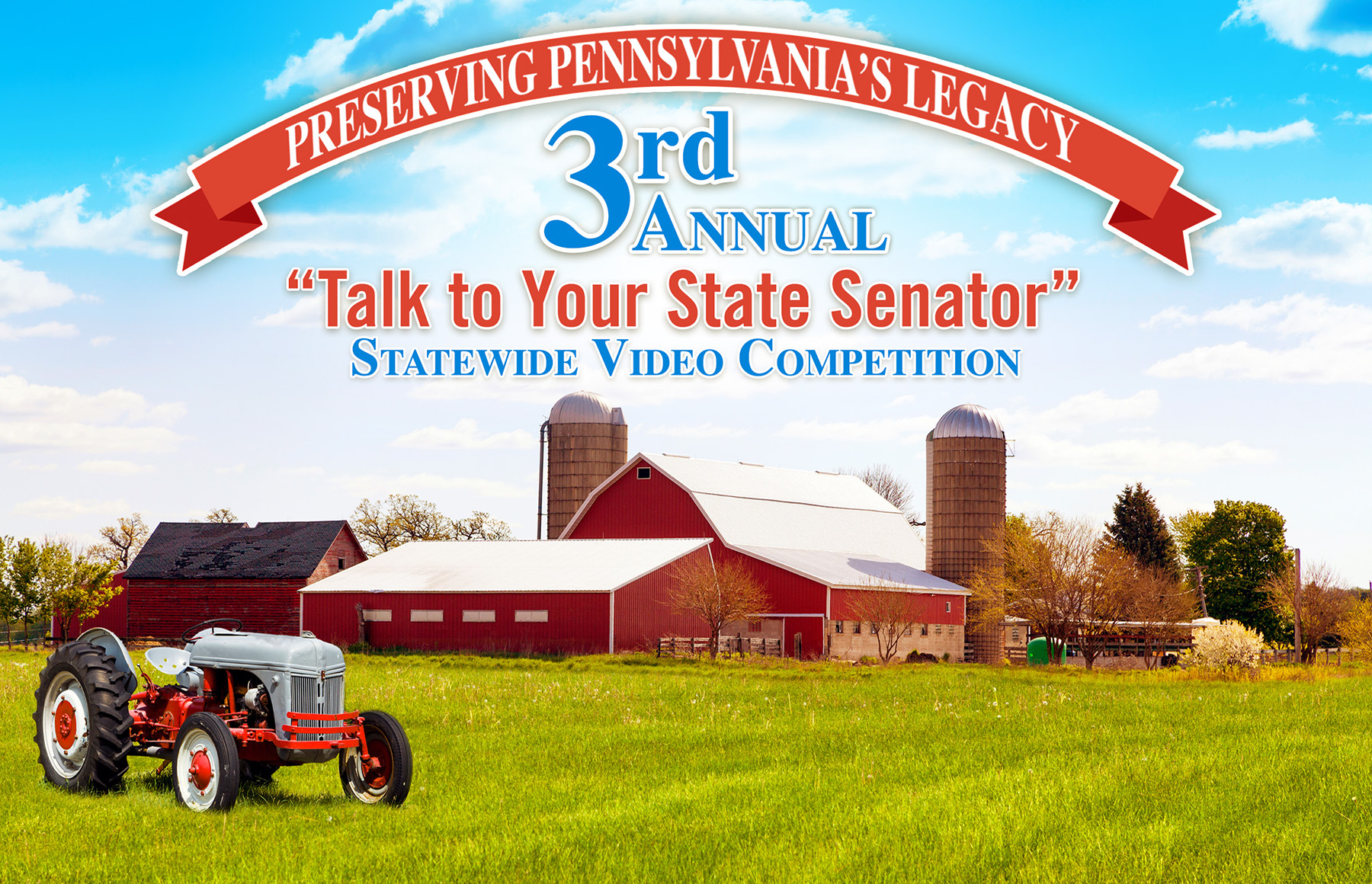 3RD ANNUAL
PRESERVING PENNSYLVANIA'S LEGACY
"TALK TO YOUR STATE SENATOR"
STATEWIDE VIDEO COMPETITION
SPONSORED BY THE SENATE OF PENNSYLVANIA
Update: We are currently in the process of organizing the entries for judging on the local level. The statewide judging will take place in March. Announcement of the winners on the statewide level will be made in May.

All status updates on the competition will be made here on the website.
Imagine waking up to a world without farms-no cows, no sheep, no potato plants, and no ears of corn growing in the fields. No problem, no farms means a lot of empty space for new houses, new restaurants and new fun things to do. Right? No farms also means empty grocery store shelves and no hamburgers, no French fries, no ice cream, and no restaurants! Many people may take it for granted, but farming is important; we can't survive in a world without farms. Regardless of whether we live in the city or in the country, we all like to eat.
Farming is an important part of our history. For generations, farmers have cultivated Pennsylvania's fertile land to grow crops and raise livestock on farms both large and small; an important part of feeding the 12+ million citizens of the state. But, our Commonwealth has a problem--for every four farmers in Pennsylvania over the age of 65, there is only one farmer under the age of 35.
Agriculture is Pennsylvania's #1 industry and that means it's the backbone of our economy. Pennsylvania's 59,000 farm families manage more than 7.7 million acres of farmland and generate more than $7.5 billion annually-that's billion with a "B"! Yet despite those billions, many farm families are struggling to make ends meet. We need to explore creative new ways to support farmers in communities throughout the commonwealth and encourage future farmers.
That's where you come in! Talk to us-share your ideas on how we can support agriculture in our state and ensure the land remains productive. We want you to share your thoughts and advise your legislator. Tell us how to save our farms for the generations to come so they don't have to imagine a world without them.
The contest is open to Pennsylvania students in grades 6-12. The contest will be judged in two categories:
Middle school, grades 6 - 8
1st place - $2500
2nd Place $1500
3rd place $1000

High School, grades 9 - 12
1st place - $2500
2nd Place $1500
3rd place $1000

Deadline for entries is January 31, 2020.

See the Contest Registration link for additional details.