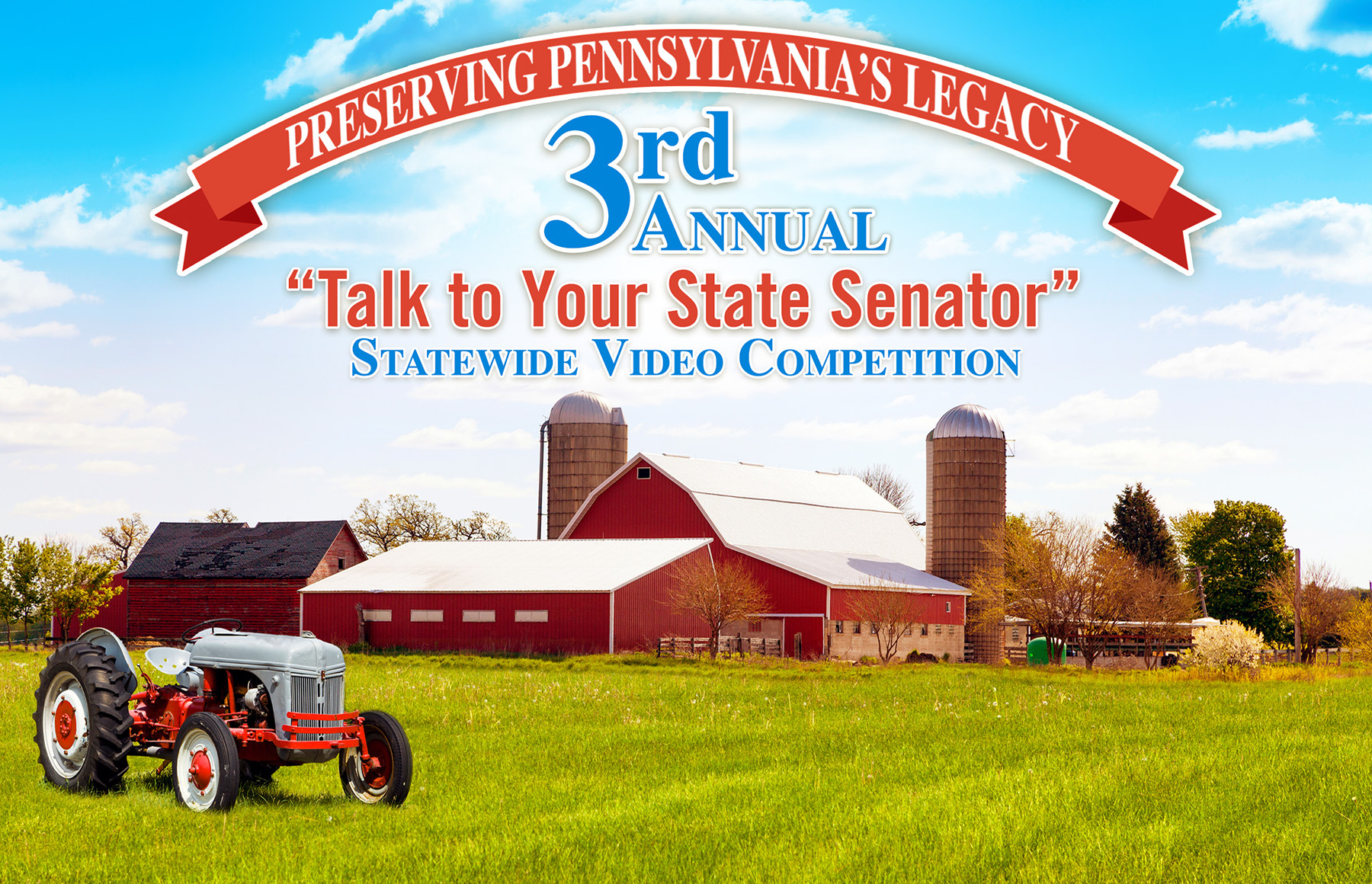 3RD ANNUAL
PRESERVING PENNSYLVANIA'S LEGACY
"TALK TO YOUR STATE SENATOR"
STATEWIDE VIDEO COMPETITION
SPONSORED BY THE SENATE OF PENNSYLVANIA
We don't have to tell you how much the world has changed in the last six weeks. The impact Covid-19 is having on each one of us is immeasurable. Like you and many of your parents, our judges and program managers are working from home. This reality has forced us to make changes to our competition timeline and we now anticipate announcing the decision of our judges during the month of June.
In the meantime, we thought you would want to know which videos were selected to compete at the statewide level. Below is the list of individuals who advanced to the next level of competition. Remember, one video will be selected in each of the following categories:
The contest will be judged in two categories:

Middle School, grades 6 - 8
1st place - $2500
2nd place - $1500
3rd place - $1000

High School, grades 9 - 12
1st place - $2500
2nd Place - $1500
3rd place - $1000


Individuals who have advanced to the next level of competition:
Middle School Level
Berwick Area Middle School - Molly Conrad, Kyla Riccobon, Braedyn Haraschak, Jack Kendron, and Hanna Zehner
Big Spring Middle School - Izabella Howell and Landon Detweiler
Eyer Middle School - Addison Kleinle
Freeport Area Middle School - Evan Ozimek, Anne Lindsay, Ashley Arner, Braden Behune, and Ava Slaughenhoupt
Penns Valley Area High School - Sarah Fultz, Joshua Evans, Carllee Simco, Makenzie Lamey, and Samantha Brown
Upper Merion Middle School - Ishitaa Saxena
West Forest Secondary - Izabelle Flick, Hailey Greenlee, Jessica Culver, John Wortman, Katie Salsgiver, and Tori Brown
High School Level
Berks County Career and Technology Center - Abigail Gardula and Autumn Moser
Biglerville High School - Aidan Kissner
Halifax High School - Ethan Snyder
Indiana County Technology Center - Emily Miller, Candra Bair, Mikayla Cramer, and Debra Flint
Palisades High School - Zach Wyllie
State College Area High School - Madigan King
Wellsboro High School - Nina Coolidge
West Forest Secondary - Brett Banks, Hunter Turba, Waylin Dashner, Sabastian Campbell, and Liam Dickson
Wilkes Barre Area Career and Technical Center - Jake Grabowski
Wyalusing Valley Junior/Senior High School - Dawcin Jones
York County School of Technology - Tayla Cain, Guadalupe Gonzalez, Matthew Paglio, Zach Robinson