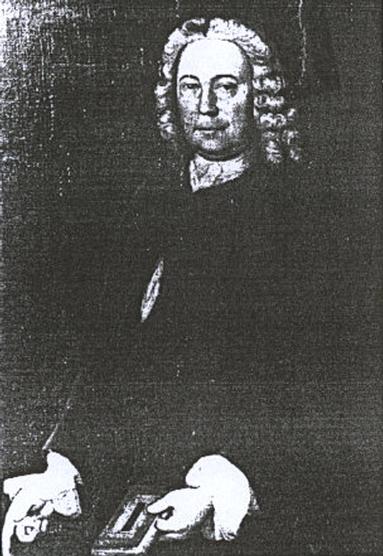 Photo credit:
Courtesy of the Historical Society of Bensalem Township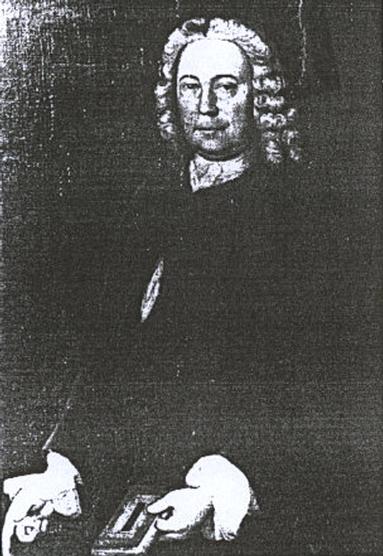 Photo credit:
Courtesy of the Historical Society of Bensalem Township
Joseph Growdon
Born: February 17, 1652, St. Austell Parish, Cornwall, England. Died: November 1730, Bensalem, Bucks County, PA. Member of the Colonial Assembly: Philadelphia County, 1684-1685; Bucks County, 1686-1687, 1690-1691, 1693-1694, 1700-1706, 1713-1714, 1715-1716, 1717-1718, and 1722-1723. Affiliation: Quaker, Pro-Proprietary.
Joseph Growdon (also spelled Grouden/Growden) was born in Cornwall, England, on February 17, 1652. A practicing Quaker, Growdon, along with his wife and father, was arrested and fined for attending the funeral of a fellow Quaker in 1682. Purchasing over 5,000 acres of land in Bucks County from William Penn, Growdon arrived in America in January of 1684, and worked as a pewterer and merchant. Growdon married Elizabeth in 1672, and the couple had 4 children: Grace (Lloyd) – wife of Speaker David Lloyd – Jennifer, Elizabeth, and Lawrence. Elizabeth died in 1699, and in 1706 the widowed Growdon married the former Ann Jones and the couple had 2 children, Hannah and Joseph.
Growdon was first elected into the Assembly in 1684 to represent Philadelphia County. He was re-elected for the 1685 session. Between 1686 and 1722, Growdon was re-elected 13 more times to the Assembly representing Bucks County. During this time, Growdon and his Quaker colleagues opposed the intrusion of the Provincial Council. In his first term, Growdon chaired the Committee of Elections and another committee whose goal was to repeal a previously enacted law regarding provincial grand juries. On May 10, 1690, Growdon was elected the 6th Speaker of the Assembly. As Speaker, he oversaw the enacting of 13 bills, one of which was the Continuation Act, which repealed some existing laws and affirmed that other laws previously passed stood. As Speaker, in 1693 he oversaw the reenactment of 76 previously passed laws and the passage of 31 new laws. Growdon was again elected Speaker for the second Assembly session of 1700. Growdon oversaw the passage of 104 laws, including a measure to tax imported liquor. Growdon was elected Speaker several more times during his lengthy career.
Growdon also served as a member of the Provincial Council. In March of 1687, Growdon was elected to a 3-year term on the council, though his win was narrow due to prominent Bucks County Quakers supporting Thomas Langhorne instead. In March of 1688, Growdon successfully cultivated support for a ban on the importation of rum. Growdon argued that local manufacturers should be encouraged to produce the product, while former Governor William Markham argued that the proprietor needed the income from the import duty on rum. Similar to many other Quaker politicians, Growdon did not support the appointment of John Blackwell for Governor in 1688. Growdon's attendance at council meetings decreased during this time, and Council clashed several times over various issues.
Despite the conflicts on the Provincial Council, Growdon was elected to another 3-year term in the Provincial Council in 1691. However, he was terminated in April of 1693 when the 1683 charter was abolished by royal Governor Robert Fletcher, who appointed a new council. The provincial government was eventually restored, and in 1695, 1697, and 1698, he returned to the council. Growdon chaired important committees during this time, one of which drafted declarations against illegal trading and pirates. He drafted letters to King William III defending the Colony from accusations of supporting illegal trade and piracy. Growdon's last year of service on the council was in 1700, during which his time he was a part of committees that studied the 1683 and 1696 Frames of Government for revision.
In addition to his service on the Provincial Council and in the Colonial Assembly, Growdon served in several other political positons throughout his career. He was appointed to the Provincial Court from 1690-1691, 1693, 1698, 1701, and 1705-1706. Growdon also served as chief justice of the Provincial Court in 1707, 1709, and from 1711-1715.
Joseph Growdon died in November of 1730. Growdon is likely buried in his family plot with his father, Lawrence Growdon, in the Friends Burying Ground by the Neshaminy Meeting House in Langhorne, Bucks County, Pennsylvania.