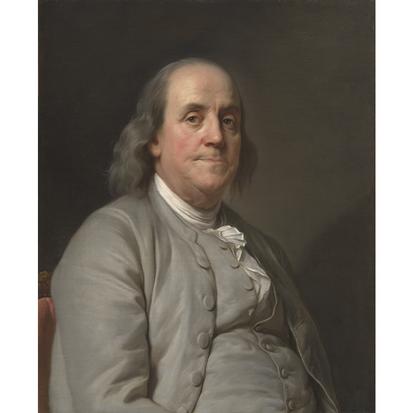 Photo credit:
Duplessis, Joseph Siffred. Benjamin Franklin. 1785. Gift of the Morris and Gwendolyn Cafritz Foundation, Smithsonian Institution, National Portrait Gallery. http://npg.si.edu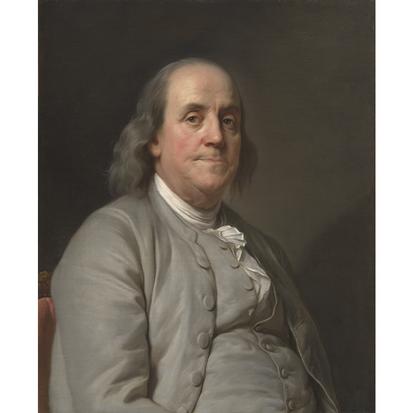 Photo credit:
Duplessis, Joseph Siffred. Benjamin Franklin. 1785. Gift of the Morris and Gwendolyn Cafritz Foundation, Smithsonian Institution, National Portrait Gallery. http://npg.si.edu
Benjamin Franklin
(Elected to replace Isaac Norris II following his resignation)
Born: c. 1706, Boston, Suffolk County, MA. Died: April 17, 1790, Philadelphia, Pennsylvania County, PA. Member of the Colonial Assembly: Philadelphia City, 1750-1764, 1773-1774, 1775-1776. Affiliation: Anti-Proprietary.
In addition to being a revered scientist, inventor, author, diplomat, and Founding Father, Benjamin Franklin also made significant contributions to Pennsylvania during both the Colonial Assembly and throughout the Revolutionary War. Born in Boston, Massachusetts, Franklin arrived in Philadelphia when he was just 17 and began working as a printer. While still in his teens, Franklin traveled to London and continued to work in print shops. By 1728 Franklin had returned to Philadelphia and was running a print shop that published government pamphlets and books. In 1730 Franklin became the official printer of Pennsylvania, and the following year he helped to found the Library Company in Philadelphia, a subscription library which was the first of its kind in America. Franklin's prominence grew as his work on the publications the Pennsylvania Gazette and Poor Richard's Almanac gained popularity.
In September of 1730 Franklin entered into a common-law marriage with Deborah Reed, and together the couple raised 3 children: Francis, Sarah, and Franklin's illegitimate son, William Franklin, who went on to become the state of New Jersey's Royal Governor in 1763.
Franklin held numerous political positions throughout his service to colonial America. He was the Deputy Postmaster General of North America from 1753 until 1774, when he was fired for his pro-Revolutionary actions. In 1775 he was appointed Postmaster General of the United Colonies by the Continental Congress, and became the first Postmaster General of the United States in 1776. Franklin served as an agent to Great Britain for numerous states, including Pennsylvania, from 1752-1762, and again from 1764-1775. Franklin also served as Commissioner of the United States to both Canada and France in 1776.
In Pennsylvania's colonial government, he served as the Clerk of the General Assembly from 1736-1750. In 1751-1764, 1773, and 1775, Franklin was an elected member of the Colonial Assembly, representing Philadelphia City. After Franklin's initial election to represent the city of Philadelphia in 1750, he emerged as one of the leaders of the Assembly. He drafted 14 of the 45 bills that became law within those 7 terms, including revised regulations for the weight and price of bread. From 1757-1763 Franklin represented the Assembly in London during meetings with Thomas Penn, which caused him to become increasingly dissatisfied with Pennsylvania's proprietorship.
On May 26, 1764, Franklin was unanimously elected the 25th Speaker of the Assembly, and immediately signed a petition to the King of England for a change in government from a proprietorship to a royal charter. However, later that year, popular support for remaining a proprietorship caused the Quaker Party to suffer defeats, including Franklin, who lost his seat in the Assembly.
After his loss, Franklin traveled to England on November 7, 1764, in order to petition the King's ministers for a royal charter in Pennsylvania. While in England, Franklin became involved in advocating for the repeal of the Stamp Act, which taxed printed materials in the Colonies. His efforts were eventually successful, and the act was repealed in 1766. By the time he returned to America nearly 10 years later, Franklin was no longer a supporter of establishing a royal government in Pennsylvania and was instead supportive of independence from Great Britain.
Benjamin Franklin reinstated himself into public life in Philadelphia upon his return to America, and although he was re-elected to the Colonial Assembly in October of 1775, he resigned from the position in February of 1776 to concentrate as a delegate of the Second Continental Congress. Franklin was known to be an active member of the Congress, and served on committees that aided in the procuring of materials and funds for the defense of the colonies. Franklin was also part of the committee that was tasked with drafting the Declaration of Independence, alongside Thomas Jefferson, John Adams, Robert Livingston, and Roger Sherman. As the unanimously appointed president of the Constitutional Convention, Franklin's influence over the proceedings can be seen in the proposed plan of a confederation of states and a unicameral legislature.
In 1776 Franklin became the Commissioner to France and worked to procure France's support and aid for the colonies during the Revolutionary War. While abroad, Franklin was instrumental in the diplomatic efforts leading to the Treaty of Paris, which ended the Revolutionary War. After nearly a decade in France, Franklin returned to Philadelphia after resigning from the position of Commissioner on May 2, 1785.
Quickly resuming his political efforts in America upon his return in 1785, Franklin became a delegate to the 1787 national Constitutional Convention. Delegates to the convention struggled to reach an agreement on how representation in the Federal government should be organized. Although a known supporter of unicameralism, Franklin suggested a bicameral legislature in which one branch's composition would be based on population (the House), and the other branch would give each state equal representation (Senate).
In 1788 Benjamin Franklin officially retired from public office, and upon his death in 1790, the United States House of Representatives went into a month-long period of official mourning. The French National Assembly declared a 3-day mourning period.
Of note, Franklin County, created in 1784 out of part of Cumberland County, was named in honor of Benjamin Franklin.
Benjamin Franklin died April 17, 1790, in Philadelphia, Pennsylvania, and is interred at Christ Church Burial Ground in the city of Philadelphia, Philadelphia County, Pennsylvania.