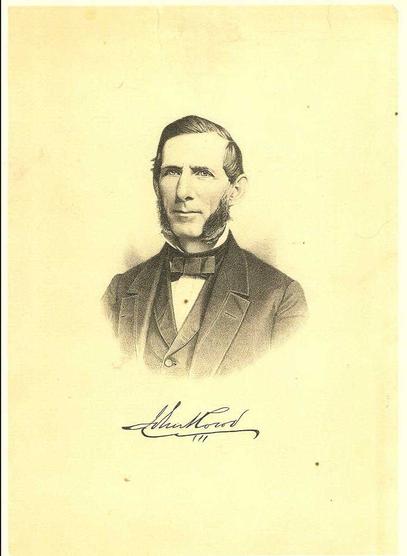 Photo credit:
"John Rowe, 1814-1880." www.Ancestry.com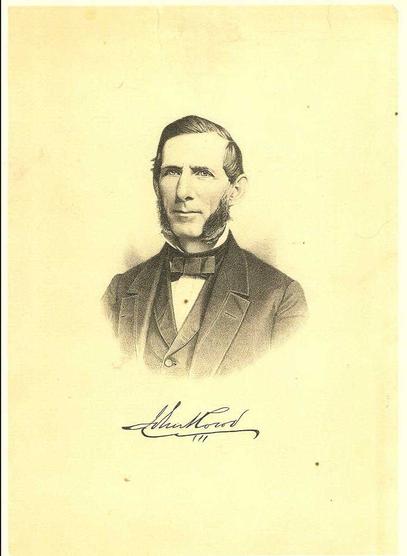 Photo credit:
"John Rowe, 1814-1880." www.Ancestry.com
John Rowe
Born: October 4, 1814, Greencastle, Franklin County, PA. Died: December 27, 1880, Greencastle, Franklin County, PA. Member of the House: Franklin County, 1853-1854; Franklin and Fulton Counties, 1862. Affiliation: Democrat, Union Democrat, Republican.
John Rowe was born, raised, and educated in his hometown of Greencastle, Pennsylvania, where he began his career as a merchant. Rowe also became a Justice of the Peace at just 25 years old. He married the former Elizabeth Prather in 1836, and the couple had 8 children: David Watson, Anna Mary (Snivley), Martha Ellen (Fletcher), John Gilmore, Elizabeth Prather (Stover), Florence Sarah, Henry Prather, and Isabella Watson (Brewer).
Rowe ran an unsuccessful campaign as a Democrat for a seat in the Pennsylvania House of Representatives in the 1844 general election. In 1852 he successfully campaigned to represent Franklin County as a Democrat in the House, which he did for the 1853 and 1854 sessions. In 1856 he was successfully nominated by the delegates of the Democratic State Convention for the position of Surveyor General, a position that he held for 3 years.
Rowe returned to the legislature during the Civil War as a Union Democrat for the 1862 session, and was elected Speaker on January 7, 1862. Rowe's election as Speaker was somewhat controversial, as his party allegiance was somewhat ambiguous. The House in 1862 was comprised of members aligning themselves with Democrat, Republican, Union Democrat, and Union Republican caucuses. In a deal struck between Union Democrats, Union Republicans, and Republicans, John Rowe was able to secure the Speakership, much to the chagrin of House Democrats who rejected a deal supporting Rowe that would have gained them some leadership positons.
During his Speakership, several legislative measures that addressed issues related to the Civil War were enacted. Act 512 made provisions for the sustenance, clothing, transportation, and organization of troops in the Commonwealth, and Act 478 addressed payment of pensions to widows and children of deceased soldiers.
As Rowe's career progressed, he distanced himself from his original political associations, eventually leaving the Democrats and joining the Republican Party. In 1872 Rowe campaigned unsuccessfully for a seat in the United States Congress. In February of 1880, Rowe served as delegate to the state Republican Convention. John Rowe died later that year, on December 27, and is interred at Cedar Hill Cemetery, Greencastle, Franklin County, Pennsylvania.