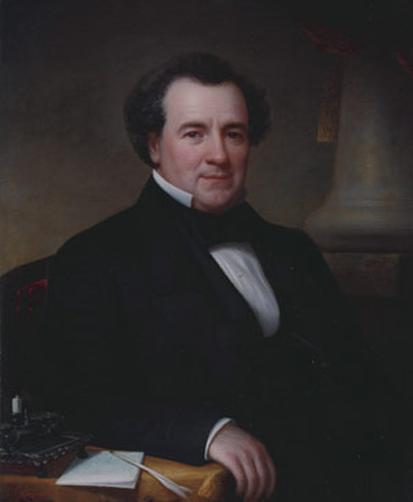 Photo credit:
"Pennsylvania Governors." Pennsylvania Historical and Museum Commission. August 26, 2015. www.phmc.pa.gov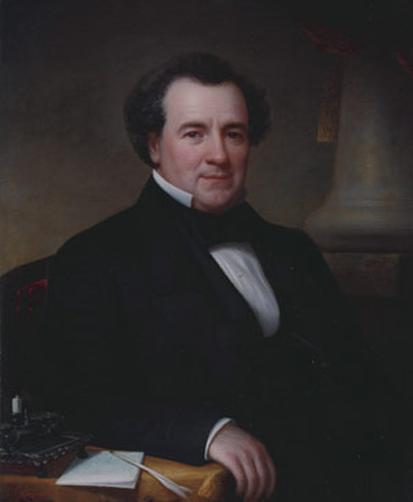 Photo credit:
"Pennsylvania Governors." Pennsylvania Historical and Museum Commission. August 26, 2015. www.phmc.pa.gov
William F. Packer
Born: April 2, 1807, Howard Township, Centre County, PA. Died: September 27, 1870, Williamsport, Lycoming County, PA. Member of the House: Clinton, Lycoming and Potter Counties, 1848-1849. Affiliation: Democrat.
William Fisher Packer was born in Howard Township, Centre County. He became involved in newspaper work from a young age after the death of his father when he was only 7. He worked at the Sunbury Public Inquirer and Bellefonte Patriot as a printer's apprentice, and later at the Pennsylvania Intelligencer as a journeyman. He later owned and edited the Lycoming Gazette and Keystone Gazette. Packer studied law in Williamsport, but never formally practiced. In 1829 he married the former Mary Wycoff Vanderbelt and the couple had 10 children: Elizabeth R., Howard, William Vanderbelt, James, Mary (Clarke), Sarah Bye (Allis), Albert, Boyd Cummings, Ellen B. (Eeles), and Annie (Woodward).
Packer's interest in politics grew during his days as a newspaper editor, through which time he had successfully campaigned for the election of Governor David R. Porter. From 1832-1835, Packer was the superintendent of the West Branch Division of the Pennsylvania Canal. He was later appointed state Canal Commissioner, a position he held from 1839-1842, after which he was appointed state Auditor General, and served from 1842-1845.
Packer campaigned for a seat in the Pennsylvania House of Representatives in the 1846 general election. He was reported to have lost the election by just 12 votes to competitor Benjamin F. Pauling, who went on to serve for the entire subsequent session. In a most unusual circumstance, a later examination of the votes in Porter Township, Clinton County, saw that 49 votes for Packer had been recorded, when in reality the tallies showed he actually had 69 votes. This margin of just 20 votes meant that Packer had been elected by 8 votes over his challenger instead of losing by 12 as was initially believed.
Undaunted, Packer again ran for a seat in the House and was elected to the Pennsylvania House as Representative and as Speaker for the 1848 and 1849 sessions. While Packer was Speaker, the first significant legislation regarding women's rights in Pennsylvania was enacted as part of an omnibus bill resulting in Act 372 of 1848. This legislation ensured that all property owned by a single woman would remain hers after marriage, that she could acquire additional property in her own name while married, and that said property could not be sold without her consent to pay her spouse's debts.
From 1850-1852, Packer served Centre, Clinton, Lycoming, and Sullivan Counties as a Pennsylvania State Senator. Packer later served as Governor of the Commonwealth from January 19, 1858 to January 15, 1861. While Packer was Governor, his administration saw to the privatization of the state canal system with Act 445 of 1858, calling for the sale of the canals to private railroad companies, and Act 8 of 1859, which abolished the offices of Canal Commissioner and State Engineer. Though once a friend of James Buchanan, Governor Packer opposed President Buchanan on the issue of the expansion of slavery into western territories, a sign of growing splits within the Democratic Party. Packer supported calling for a National Convention to address the impending dissolution of the Union in hopes that a compromise could be made and war avoided. Following his term as Governor, Packer retired to Williamsport.
William F. Packer died in Williamsport, Pennsylvania, on September 27, 1870. He is interred at Williamsport Cemetery in Williamsport, Lycoming County, Pennsylvania.