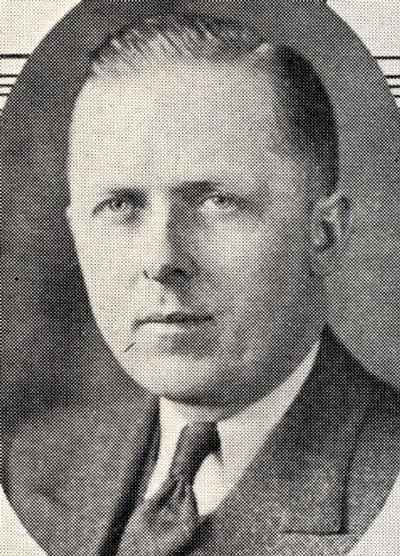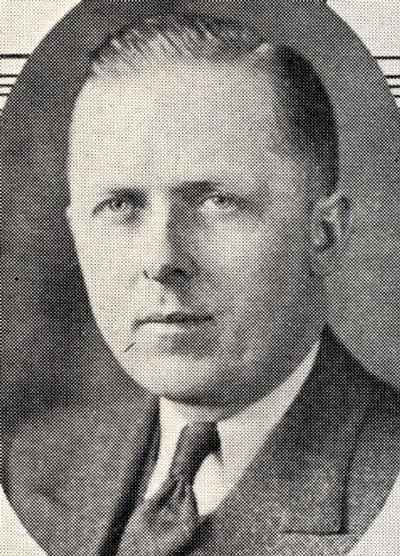 Roy E. Furman
(Elected following the death of Wilson G. Sarig)
Born: April 16, 1901, Davistown, Greene County, PA. Died: May 18, 1977, Harrisburg, Dauphin County, PA. Member of the House: Greene County, 1933-1940. Affiliation: Democrat.
Roy Evans Furman graduated in 1918 from Mt. Morris High School in Greene County, Pennsylvania. He graduated in 1922 with a Bachelor of Arts degree from Waynesburg College. In 1924 he started a construction business in Waynesburg. Furman was elected as a member of the Pennsylvania State Democratic Committee and served from 1928-1932. Furman married the former Helen Ross, with whom he had a daughter, Mary F. (Berryman). He later remarried the former Mary Keeley in 1942 and they had one son, Roy E. II. In November of 1932 Furman was elected as a Representative from Greene County, and was re-elected for 3 more successive terms.
Furman was the prime sponsor of 6 bills that were signed into law, all in the 1935-1936 legislative session. Much of Furman's legislative focus during the session pertained to updating Pennsylvania's highway system and Vehicle Code. Furman's legislation, which became Act 233, made an appropriation allocating additional funding to the maintenance, construction, and reconstruction of roads and highways in second-class townships of Pennsylvania. Act 301 changed and added new routes that were classified as state highways, and Act 355 regulated registrations and licenses for motor vehicles and created penalties and procedures for addressing violators. Furman also wrote legislation that successfully worked to extend the period of redemption for those who owe delinquent property taxes to 5 years, which became Act 415.
In 1935 Furman was selected as the chairman of the Highways Committee. In the same year, Furman was chosen as acting chairman of the House Ways and Means Committee, as well as Democratic Leader while Representative Frank W. Ruth suffered an illness. The following year, in March of 1936, Speaker Wilson G. Sarig passed away. On May 4, 1936, during the first extraordinary session of 1936, Roy Furman was elected to replace Sarig as the Speaker of the Pennsylvania House of Representatives. At the age of 35, Furman was one of the youngest persons to hold that position in Pennsylvania.
On December 1, 1936, a second extraordinary session was called by the Governor to provide relief for those struggling with poverty in the midst of the Great Depression. For this extraordinary session, the Members-elect who won in the November general election were sworn into office in December. Furman was again elected as the Speaker, allowing him to be elected Speaker for 2 separate legislative sessions in 1936.
During the second extraordinary session of 1936, Furman oversaw the passage of Acts 1 and 2, which established an unemployment compensation system in Pennsylvania to match Federal funding. Furman oversaw the creation of Act 459 of 1937, which established the Joint State Government Commission. The goal of this commission was to serve as a nonpartisan, bicameral research and policy development agency of the General Assembly of Pennsylvania. Additionally, Furman and Democratic leadership championed and passed Act 211 of 1937, which created the Pennsylvania Turnpike Commission. In 1940 Furman retired from the legislature and returned to his construction business.
After his retirement from the legislature, Furman remained involved in government and politics, serving as Greene County's Democratic Chairman for 10 years. On November 2, 1954, Furman was elected as the Lieutenant Governor of the Commonwealth and served with Governor George M. Leader. He served in that position from 1955-1959. In 1958 he ran for Governor but lost in the Democratic primary election to David Lawrence, who later became Governor. In 1959 Governor Lawrence appointed Furman to the Pennsylvania Turnpike Commission, where he served until 1963. Furman then served as a member of the Pennsylvania Highway Commission and later as a member the Pennsylvania State Transportation Commission (STC).
Furman's commitment to the betterment of Pennsylvania's roads and highway system was commemorated when Act 127 of 1975 designated Pennsylvania Route 21 in Fayette and Greene Counties as the "Roy E. Furman Highway."
Roy E. Furman died May 18, 1977 in Harrisburg, Dauphin County, Pennsylvania. He is interred at Greene County Memorial Park in Waynesburg, Greene County, Pennsylvania.